"BUILT TO LAST" was the Emerson logo, and last they did. This original Emerson model 27646 was manufactured between 1919 and 1922 and it is still running strong today - 90 years later.
If SPECIAL and CONFIDENCE are what you are looking for in an antique electric fan restoration, then this is it. This is truly top quality work that you can trust and it comes with a 12 month warranty on the motor. Check my feedback and see how my fan customers feel about my fans. I have fan customers that have been running their restored Emerson fans for over ten years.
They truly don't build them like this anymore. The American made Emerson electric fan is probably the best built electric fan ever.
The Emerson 27646 preceded the 29646 and was manufactured from 1919 to about 1922. It was the first Emerson oscillating fan with the felt covered base.
This Emerson electric fan is more than just a beautiful restoration - it is an example of those innovative and technological advances right out of the industrial revolution and the coming of the machine age. You are looking at true American history preserved.
This fan features 12 inch Parker (unique to Emerson), solid brass blades, adjustable oscillator, and 3 speeds.
The four, solid brass "Parker" blades have been roll-formed and matched to improve air flow. They are then stroboscope aligned and dynamically balanced to provide very smooth operation. Finally the blades are machine buffed and clear coated. These precision blade adjustments are another special step in this restoration.
Beautiful brass cage badge features the Emerson Twin-Blade logo. This is an especially difficult badge to restore and they are seldom seen in this condition. Black background has been restored, embossed brass polished, then an overall clear coat applied for preservation.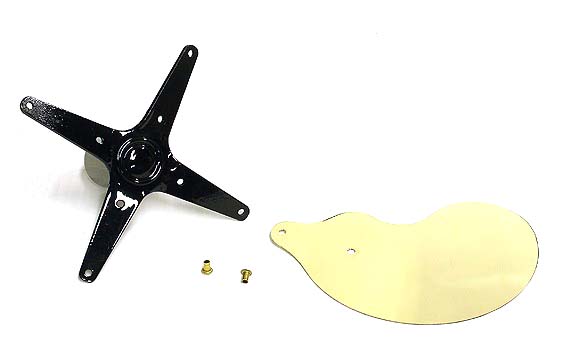 SPECIAL NOTE: To properly treat and prevent reoccurrence of rust and corrosion between the brass blades and the steel hub, they are disassembled and processed separately. After refinishing, they are reassembled using special solid brass rivets and special tooling. The reassembled blades and hub assembly look and perform like it just came out of the factory.
This is a special step in the restoration that is seldom done by other restorers. To do it properly, it is expensive and time consuming.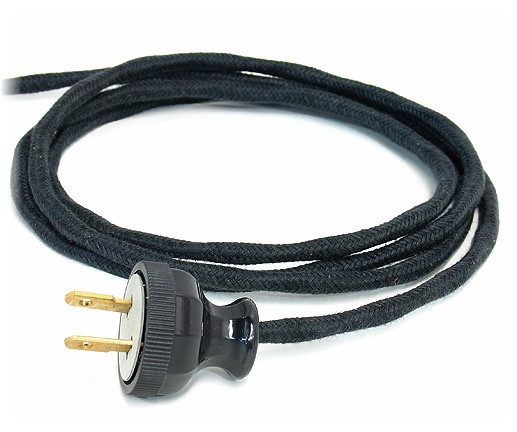 The motor cord and the line cord are matching black, cloth covered cords made especially for antique restorations. These special cords are so much closer to the originals. The plug is a vintage style plug that was commonly used on this fan.
All electrical is thoroughly inspected and tested. Motor field winding is cleaned and resealed. Speed control is completely disassembled to permit access to all contact surfaces. Knife switch contact pitting is removed and surface smoothed. Proper switch/contact tension reset.
To compensate for the higher line voltages of today as compared to when this fan was manufactured, the speed control choke coil has been rewound to compatible specifications. This change allows the motor to operate more like it did originally and provide lower speeds with more differentiation between speed settings.
The base, motor housing, and gear housing are constructed of rugged cast iron. A sliding switch with bakelite insulator at the base provides a choice of "off and three different speeds".
Refinishing involved complete disassembly, stripping to bare metal, bead blasting, and then coating with the very best paint system available. The gun applied finish is the same weather proof finish used on automobiles. It consists of a catalyst activated epoxy primer/sealer, a catalyst activated urethane primer/filler, 2 coats of black base-coat, and 2 coats of catalyst activated clear-coat. And it is stunning.
All of the many processes used in this restoration are too numerous to mention in this short description. I do all of the work myself. If you have any questions about what has been done to this fan, please email.
You see my fans from every angle and they look brilliant in the images because they are brilliant.
Here we have a view of the oscillator gear housing, oscillator control and motor positioning controls. Oscillation can be adjusted from 0 degrees to 90 degrees.
Powerful 4-pole motor smoothly turns these large blades with ease. It runs strong and smooth while only using 43 watts on the LOW setting. Very nice distinctive speed changes at 850 RPM on LOW, 1150 RPM on MEDIUM, and 1480 RPM on HIGH.
The patented design of this Emerson motor was not only the best of that era, but is considered the best to date. The rotor of this 1919 motor actually rides on a shaft that acts as the bearing and is in a constant oil bath. A new leather seal has been installed to ensure that this oil bath chamber does not leak.
Oscillator gear housing has been packed with gear lube and is ready for another lifetime of operation.
This Emerson model 27646 was the only Emerson to have the brass extension coming out of the motor housing.
Beautiful solid brass Emerson motor badge provides the specs for this model. Badge black background has been restored, raised brass polished, then clear coated for preservation. Only polished, solid brass rivets are used to anchor this badge when it is reattached.
All hardware (screws, etc) has been refinished to original by bluing (a Parkerizing process). Those original blued screws replaced with brass screws will be packaged and included to give the new owner the option of going back all original.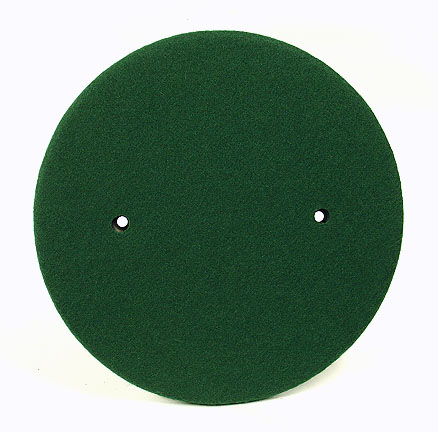 Genuine wool blend felt has been chosen for the bottom cover. Its rich, dark green color and smooth, thick texture is so much closer to the factory original. This felt is purchased directly from a U.S. manufacturer especially for the Emerson restorations.
For safe shipping, this fan will be packaged and shipped in two separate cartons. Some assembly will be required. Instructions and tools are included. Technical support via email or telephone will be available and is encouraged if there are any questions or doubts. Special motor lube is also included.
This Emerson electric fan has been very carefully, meticulously, and painstakingly restored with total attention to detail and quality. The new owner will be proud to show it and will thoroughly enjoy using it.
I have been collecting and restoring electric fans for many years, and I stand behind my work 100%. Also, I am an active member of the "Antique Fan Collectors Association".
Fixed shipping cost of $35.00 is for FedEx Ground in the continental U.S. only. If FedEx Ground is not available in your area or another carrier is desired, please email for shipping costs. Packaging is done with new materials and cartons.
INTERNATIONAL BIDDERS are welcomed, but be aware that this fan motor only operates on 110-120 VAC at 60 cycles. You WILL need special electrical adapters for use in your country. Please email before bidding for shipping costs and insurance limitations.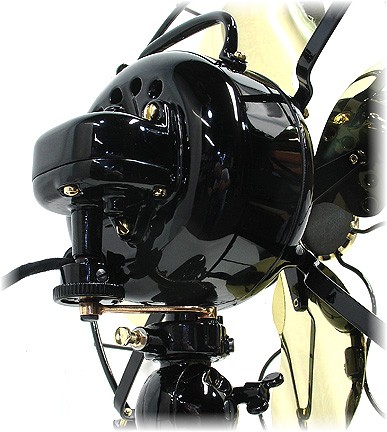 This restored Emerson 27646 electric fan comes with a written 12 month electrical warranty on the motor and speed control.
Please email your questions. If you require additional images, include your email address with your request. An image of this fan before restoration began is also available.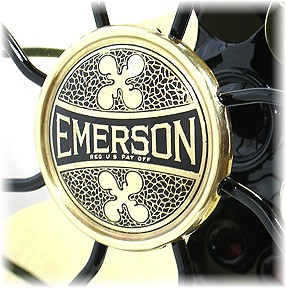 These original repaired and refinished brass badges are the crowning touch to this restoration. What detailed restoration could be complete without this critical step?